ICWA SILVER JUBILEE CELEBRATIONS

VALEDICTORY FUNCTION

20TH APRIL 2012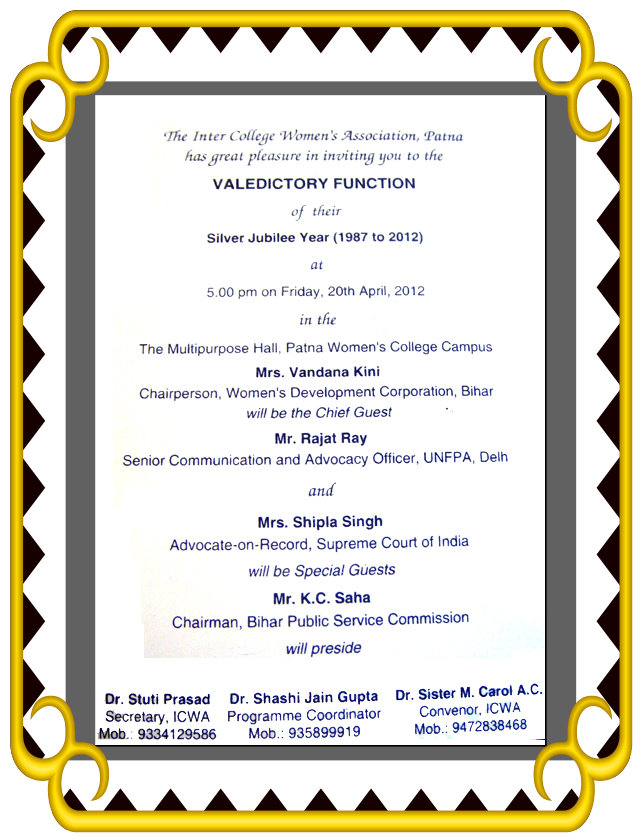 The Valedictory Function of ICWA Silver Jubilee Year, held on 21st April 2012 in the Multi-purpose Hall (Patna Women's College Campus), was a grand success! Mrs Vandana Kini, Chairperson, Women's Development Corporation, Bihar was the Chief Guest, while Mr. Rajat Ray ( Senior Communication and Advocacy Officer, UNFPA) and Mrs. Shilpa Singh (Advocate-On-Record, Supreme Court of India) were our Special Guests for the evening. Mr. K.C.Saha, Chairman, Bihar Public Service Commission presided over the function.
The programme commenced with lighting of the lamp by our Guests of Honour after which ICWA Convener, Dr. Sister Mary Carol, A.C., presented the welcome address.
The vibrant cultural programme comprising songs and dances performed by ICWA Literacy Centre students and ICWA Alumni was a huge success. The winners of Inter-College Folk Song and Folk Dance competitions i.e. ICWA Alumni, J.D.Women's College, Magadh Mahila College and Arvind Mahila College also performed on this occasion. But the items that stole the audience's hearts and filled the hall with thunderous applause were the Prayer Dance and the Butterfly Dance performed by the children of ICWA Literacy Centres.
The power-point presentation by Dr. Stuti Prasad and Ms Neerja Lal gave a graphic account of the 25 year long journey of ICWA.
Another highlight of the function was the release of ICWA Souvenir, "Waves", by our Guest of Honour Mrs. Vandana Kini .
ICWA Alumni and children of ICWA Literacy Centres were awarded certificates and cash prizes for academic proficiency, exemplary conduct and service to ICWA.
The speeches given by our guests of honour, Mrs. Vandana Kini, Mrs Shilpa Singh and Mr. K.C. Saha were all very encouraging and inspiring in their high commendation of the work being done by ICWA under the leadership and guidance of Sister Carol.
The programme ended with Mrs Shashi Jain proposing a vote of thanks.
Grand Finale: