Alumni :
ALUMNI WING – TOWARDS DREAMS INFINITE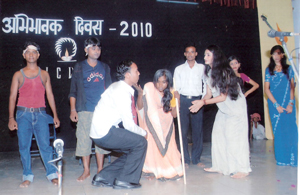 Formally inaugurated on 26th September 2004, the Alumni Wing is a concrete example of the ICWA dreams turning into reality. Nothing can be more gratifying than watching one's own plants bloom in the garden of life.

Yes, this is what the ICWA Alumni Wing is all about. Its members are children who have grown up under the care and protection of ICWA, most of them have passed out of school and are pursuing college education. Some have even taken up jobs. Talk to them and you know that they have the fire that enables one to pass on the flame to others. They have known poverty, they have known deprivation, and they have also known the goodness and kindness of others who have helped them achieve something in life.







So, they have joined hands with ICWA, in order to become part of that endless chain, extending their helping hands to the children in the slums. They have not forgotten that they owe to society and humanity what they are today, and the only way to repay this debt is by sharing what they have received. Meet them and you'll find they are full of energy, zest and commitment – they are the changing face of India.