School Children : Stage II of The Literacy Project.
TO GET MERITOTIOUS CHILDREN OF LITERACY CENTRES ADMITTED INTO GOOD SCHOOLS OF PATNA. It was STARTED IN 1994 – when the first batch of 04 children were admitted into ST. XAVIER'S SCHOOL , Patna.
SCHOOL CHILDREN PARENT'S DAY FUNCTION :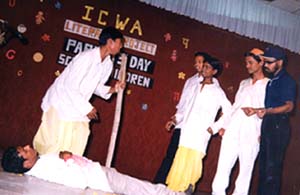 In another first of its kind I.C.W.A., organized a function on March 13, 2003 in which parents of the literacy schoolchildren were invited to witness the performance and progress of their children who were in schools. Dr. V.R. Sinha, a reputed surgeon, was the Chief Guest. He was extremely pleased to see this social transformation Mrs. Sinha was happy to give away the prizes to meritorious students.

PARENT-TEACHER MEET :

With the Literacy Project, having made headway, it was time to organize a Parent-Teacher Meet. This was done for the first time on November 19,2006. It was fruitful in the sense that it fostered in the instructors and managers greater understanding of the home situation of children attending the literacy centres and created awareness of the many constraints under which they lived and functioned.





ANNUAL DAY :


The Annual Day function was organized on 25th April 2006 which happened to be the 19th Anniversary of I.C.W.A. The function was held in the Multipurpose Hall of Avila Convent. Mr. Justice Ramesh Kumar Datta was the Chief Guest. Dr. S. Ehteshamuddin, Vice Chancellor, Patna University, presided over the function. The new issue of 'Waves' was released by Mr. Justice Datta. A short cultural programme was presented by the children of the Literacy Project. The highlight was a short skit written, directed and acted by the members of the Alumni wing of the Literacy Project.